Wholesale Team - Aaron Weiss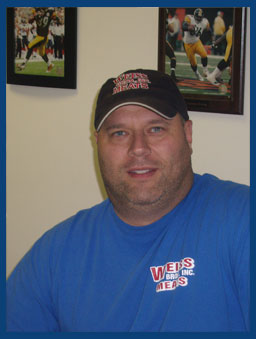 Email Aaron: aaron@weissmeats.com
Grandson of the late Milton Weiss and the son of Elliott Weiss, Aaron started out in the business young and worked his way up to his current position of president. "My dad didn't just hand me a job," Aaron says, "I started out cleaning up in the shop and did everything from stocking the shelves, cutting meat, and working the counter, to going on sales calls and meeting customers face-to-face. I think that's given me an appreciation for what every employee does and allows me to truly understand the business and how important our customers and employees are."
Aaron is active in the community and enjoys working with retail and wholesale customers. "It's great to be part of something that matters. Eating good quality food is important, and we work hard to make sure that nothing passes through our store that we wouldn't serve on our own tables to our own families. I think that's really important."
Aaron is committed to his customers and gets the opportunity to interact with them face-to-face, on the phone, and in the "Ask Aaron" column in our biweekly retail newsletter. In his column, he answers questions e-mailed in by our customers, which can be found on our "Did You Know" page.
When he's not in the office, Aaron enjoys spending time with his wife and kids and also tries to set aside some time for his favorite outdoor activities. He has a daughter and two sons.