Wholesale Team - Dan Green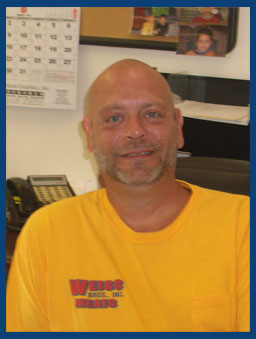 Email Dan: dgreen@weissmeats.com
A valued member of the Weiss Meats Team for 10 1/2 years, Dan is our resident Chinese Restaurant consultant and also responsible for our frozen, dry and seafood purchases.

Dan is dedicated to making sure his customers are well taken care of. He's also a shrewd negotiator when it comes to selecting the best quality seafood and other food items for our store, allowing us to have a wide selection of quality products and great values for our customers.
Dan is known for his great sense of humor and his co-workers all enjoy the opportunity to work with him every day. When he's not hard at work in our office, he enjoys spending his time golfing, watching movies and sports, and spending time with his family. He's also a big fan of Jeopardy and often surprises those around him by getting the answers before the contestents.

One of your favorite things about working for Weiss Meats:
I love the variety - no one day is ever the same.

Some things you've accomplished in your life that you're proud of:
Being married to my wife for 22 wonderful years and raising my two sons, 11 and 15.

Favorite product at Weiss Meats:
Skirt Steaks on the grill - there is no more flavorful cut of meat in my opinion.